About Us
Redewater Lakeside Lodges is a family run luxury self-catering holiday lodge business and fishery.
Our site has three newly built Finnish Log Homes situated around a two acre lake stocked with brown trout. To the South of the lake runs the beautiful River Rede a tributary to one of the best Salmon Rivers in England, The North Tyne.
Our lodges are built and furnished to a very high standard and each of them has its own Sauna and outdoor hot tub to add that extra bit of relaxation to your stay.
We have just added another Finnish Log Home (Ingram Lodge) to our business, which is situated about 500m along a country track and it nestles on the banks of the River Rede in a very tranquil secluded area.
Our 2023 newest addition, directly adjcaent to Redewater Lakeside Lodges, is Peel Cottage, a totally renovted 1800s stone built, luxury 4-bedroom, 4 bathroom, property with large luxury kitchen/dining room, two large living rooms and an extra-large garden with stunning views all around. (For more information on Peel Cottage visit Peel Cottage Reservations
Our lodges have on-site managers available daily for any enquiries you may have.
More in this Section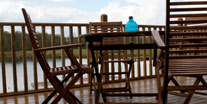 Our Philosophy
Our aim is to provide an exceptional standard of luxury, top quality self-catering holiday accommodation in beautiful surroundings.
Find Out More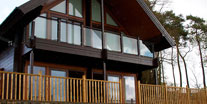 Who We Are
Our aim is to provide an excellent standard of luxury to all our guests...
Find Out More