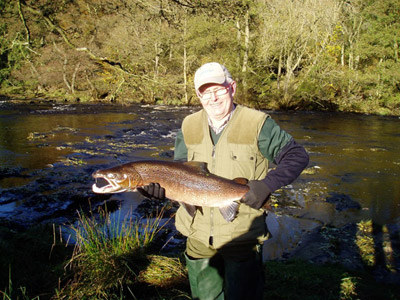 Fishing
Three of the lodges are set around a brown trout filled lake, so you can fish directly from your own lodge fishing deck.
Amid the rolling Northumbrian hills nestled into the Rede valley sits Redewater Lakeside Lodges.
This stunning location offers both trout fishing on a two acre lake from your lodge and migratory salmon, sea trout and native wild brown trout fishing from the banks of a two mile plus stretch of the River Rede just a short walk from your door.
The lake is stocked with brown trout and is fly only. Casting a dry fly to a rising trout on a summers evening listening to curlew,cuckoo and oyster catchers whistle and burble overhead can be great fun.
The River Rede is a tributary of the North Tyne, England's premier salmon river, and has good runs of both salmon and sea trout as well as wiley wild brown trout. This two mile plus single bank beat boasts eight named pools with Ingram pool being arguably the best pool on the River Rede.
This beat of the River Rede is particularly picturesque whether stalking a wild brown trout on a warm summers evening or salmon or sea trout on a cool autumnal morning your concentration can be broken by a flash of blue as a kingfisher gives a fly past or by the bob of a dipper on a rock nearby, either distraction makes the experience all the more pleasing.
Whether a seasoned angler requiring a ghillie/guide or a novice who wants to try their luck and may require casting tuition, help is on hand.
Contact Alan Gray on 07774215463 or email thegrays1@sky.com who can provide you with all the current information, including tackle required, river levels and conditions, either before or during your stay.
Trout tackle is available for hire by prior arrangement and subject to availability.
If you prefer river fishing you can fish on the stretch of River Rede that lies around 100m away from the lake at Ingram. The 'Ingram Lodge' is set along the riverside, a stone's throw away from the local well-known fishing spot called 'Ingram Pool.'